NFL Week 6: 49ers and Lions in the Monster Matchup
Looking to match their best season start in 55 years, the National Football Conference-leading Detroit Lions are set to make a home stand against the surging San Francisco 49ers who are having quite the turnaround season themselves staying undefeated since Week 1.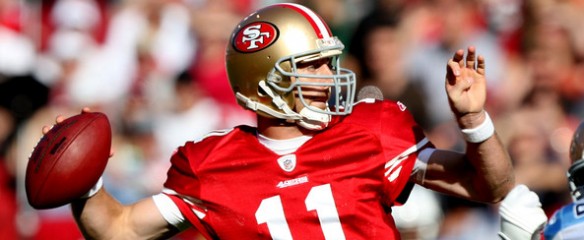 Roaring Lions Prove Tough to Tame at Home
With 72 points for in their two games at Ford Field so far this season, and only 16 allowed, there isn't an opponent in the league that could frighten the mighty Detroit Lions in Week 6. When the 4-1 San Francisco 49ers come to Ford Field Sunday afternoon at 1:00 PM ET, they will be met by a feverish crowd and a Detroit team that will be ready to duel in their biggest test of the season.
Led by QB Matthew Stafford, WR Calvin Johnson and RB Jahvid Best, the Lions will look to build on the momentum from Week 5's impressive 24-13 victory over Chicago.
San Fran no Slouch in Turnaround Season
Off to their best start in nine years, the 'Niners are gunning for their fourth win in a row under head coach Jim Harbaugh. The two teams could easily share a perfect record today had San Francisco not blown a 10-point lead only to lose in overtime to Dallas September 8.
After destroying the Bucs last week 48-3, the few injuries the team is dealing with will not deter the red and gold from rolling into Motor City full of confidence. Not to mention it is a 180-degree turnaround from their 0-5 standing at this point last season, adding to the swagger.
This potential playoff preview is easily the NFL' Week 6 'tilt of the week.'