NFC Playoff Race: Predicted Order Of Finish
With the Super Bowl XLV Champion Packers out to an 11-0 start Green Bay is well on their way to the 2010 NFC North Division title. The surprising San Francisco 49ers are a win away from the NFC West Division Championship, while the rest NFC playoff picture is a little clouded. The NFC South and NFC East titles, plus the two Wild Card positions, are still up for grabs.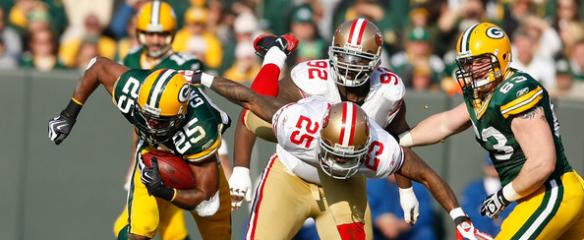 Packers & 49ers: Set To Clinch NFC Playoff Positions
Following the Week 12 Monday Night Football 49-24 blowout win, by New Orleans over the New York Giants, the Saints are sneaking up on the 49ers for the second best record in the NFC. The Green Bay Packers are still the class of the NFL after they won on Thursday.
Green Bay (11-0) is one win away from clinching the NFC North, while division foes Chicago and Detroit are both 7-4 and right in the thick of the Wild Card hunt. San Francisco (9-2) dropped a tough defensive battle 16-6 to the Baltimore Ravens but the 49ers are still just a win away from locking up the NFC West Division – with a Week 13 win over the Rams.
NFC South – NFC East: Saints And Cowboys Lead The Way
New Orleans (8-3), with their win on MNF, regained their one game lead on the Atlanta Falcons in the NFC South. The Saints are now just a game back of the 49ers in the race for second overall in the NFC. Atlanta owns the final NFC playoff spot, right behind the Bears.
Dallas took out the Miami Dolphins 23-20 on Thanksgiving Thursday. Coupled with the Giants loss on MNF, the Cowboys (7-4) are riding high in the NFC East. While the loss wasn't fatal for the G-Men (6-5) they are now one game back of the last NFC Wild Card position.
The other eight NFC teams won't be seeing any 2011 NFL Playoff action – except on TV.
NFC Playoff Race: Predicted Order Of Finish
Green Bay Packers
New Orleans Saints
San Francisco 49ers
Dallas Cowboys
Atlanta Falcons
Detroit Lions