NBA Eastern Conference: Mid Season Report
Playoff positions will be on the line the rest of the way as the National Basketball Association has reached the halfway point of the lockout shortened 2011-12 season. Today we take a look at the NBA Eastern Conference that has some surprise teams in various divisional title races.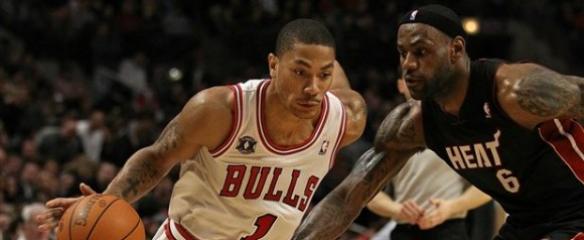 Due to the 2011-12 lockout the National Basketball Association season, shortened from 82 games to 66 contests, has reached the half way point. While the usual suspects – the Miami Heat and Chicago Bulls are rolling along, other perennial favorites like the Boston Celtics and Orlando Magic have yet to hit their stride. The playoff stretch run has begun!
NBA Eastern Conference Playoff Battle
We mentioned that the Heat and Bulls are cruising along as they sit tied atop  the NBA Eastern Conference with a five game lead. After that though, there are plenty of surprise teams in the 2011-12 NBA playoff race.
Teams like the Indiana Pacers who sit in third, and the Philadelphia 76ers who occupy the four hole, are relative strangers in the playoff hunt. The Pacers made the playoffs last season, with a 37-45 record, before being bounced by the Bulls in the first round.
Philadelphia finished 41-41 last year and were then routed by the Heat in the first series of the playoffs. The 76ers are the surprise leaders in the Atlantic Division in the East as they try to hold off the Knicks and the Celtics who are tied at four games back.
Perennial Contenders Struggling To Make The Playoffs
Orlando, Atlanta, New York, and Boston round out the top eight playoff contenders. The Knicks and Celtics are tied for the final two playoff posiitons as they both have a 2.5 game lead over the Milwaukee Bucks and Cleveland Cavaliers.
Teams like the Detroit Pistons, New Jersey Nets, Toronto Raptors, along with the 4-28 Charlotte Bobcats, are already looking forward to the NBA Draft Lottery as they are pretty much out of the playoff race in the NBA Eastern Conference.