NBA Betting Action – Knicks vs. Magic – Free Picks
In what is steadily becoming a classic rivalry, the New York Knicks and Orlando Magic will lock up on the hard court as the featured game in the NBA on Tuesday, March 1, 2011, at 7:00 PM ET.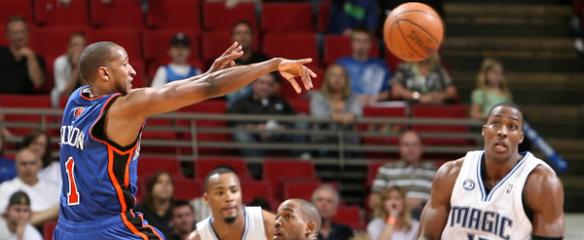 NBA Betting Action – Knicks vs. Magic – Free Picks: This is the second of three meetings this season for the New York Knicks (30-27) and Orlando Magic (38-22) . The Knicks have won four of five and are coming off a big win in Miami while the Magic, after receiving a tongue lashing from star Dwight Howard, also have just  one loss in their past five contents.
NBA Preview – Orlando Magic vs New York Knicks
These two teams locked horns on December 30th in a heated affair with Dwight Howard facing off against Amar'e Stoudemire. Howard received a technical foul in the game which saw Orlando come away with a 112-103 victory.
The Knicks were already turning heads this season when they bolstered their line up with the addition of Carmello Anthony and Chauncey Billups from Denver. The team the Magic face tonight is much different from the one they beat just over two months ago.
Betting Lines – Knicks @ Magic – NBA Free Picks
Sure the Knicks haven't faced the toughest of opponents in the past five games but they have won and they are also a team that should gel as they spend more time together with the new additions.
The Magic are a driven squad right now and a win tonight will give them the tie breaker over a Knicks squad that is just below them in the Eastern Conference standings with less games played.
This match up has all the makings of a close contest. Take New York at Betus.com at +7.5 paying -110.