Nationals vs Astros MLB National League Wagering Lines
As the temperatures heat up across the Nation, during the dog days of August, the Major League Baseball playoff races are getting just as hot. Tonight we take a look at the Washington Nationals vs. Houston Astros match-up on Tuesday, August 7, 2012. First pitch flies at 8:05 PM ET from Minute Maid Park in Houston, Texas. The Nats are hot – the Stros are not!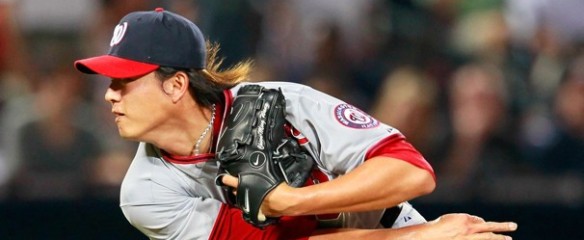 Washington Nationals: Look to Pad NL East Lead
Sitting at an incredible 66-43 the Washington Nationals just keep rolling along during their season of revival. To appreciate the full scope of what's going on in DC, one has to understand that the Nationals have already won more games this year than they did during the entire 2008 and 2009 seasons (they finished with 59 wins both years) and they still have 63 games to go.
With Atlanta just three games behind them the Nationals can't let their guard down against the lowly Astros who are currently sporting a 36-74 record. Coming off a seven inning 3-hit shutout of the Phillies, we like LHP Ross Detwiler (6-4 3.02 ERA) on the bump for the Nats tonight.
Houston Astros: Rolling Along on a Futility Matching Pace
After many thought that Houston had hit rock bottom with a 56-106 record during the 2011 MLB season, the Atros are digging for a new low during the 2012 campaign. With their current lowly record, the 'Stros will have to win another 21 games to "best" their 2011 futility mark.
Jordan Lyles (2-8 .595 ERA) gets the call to the hill for Houston. Lyles has pitched batting practice lately by giving up home runs in seven straight starts to go along with 36 runs allowed in 40 inning of work. The top rated Advantage Sports Betting online betting sites are loaded with MLB odds. Load up and prosper with the Nats on the Bovada.lv Money Line here!