NASCAR Sprint Cup 2011 Championship Final Race
NASCAR Nation will be flocking to deep South Florida as the 2011 Nascar Sprint Cup racing season comes to a close this weekend. The Camping World Truck Series Ford 200 revs up the action on Friday night. That will be followed by the Nationwide Series Ford 300 race on Saturday afternoon.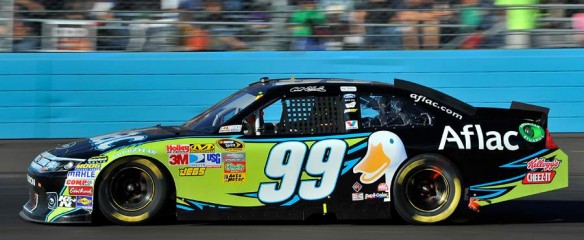 The weekend wraps up, with the Super Bowl of the NASCAR season, when the Sprint Cup Series Ford 400 race heads to the track on Sunday, November 20, 2011, at 3:00 PM ET from the legendary Homestead-Miami Speedway in Homestead, Florida.
Sprint Cup Championship Comes Down To The Wire
With a slim 3 point lead in the Sprint Cup Championship standings heading into the final chase Carl Edwards is the man to beat on the 1.5-mile paved oval at Homestead.
Edwards lead makes things a little more complicated for Tony Stewart who currently sits in second in the Sprint Cup Championship chase.
Provided that both Stewart and Edwards lead during one lap of the race on Sunday, Stewart needs to finish three or more positions ahead of Edwards to take the 2011 Sprint Cup title.
Roush Fenway Racing Looking To Make NASCAR History
Should Edwards win on Sunday, or at least finish ahead of Tony Stewart, and Ricky Stenhouse Jr. can win the Nationwide Series race, the Roush Fenway Racing team will make NASCAR history.
If both scenarios come to pass, Roush Fenway Racing will be the first team to win the Nationwide Series Championship and the Sprint Cup Championship in the same NASCAR season.
Stenhouse Jr. seems like a lock to win the Nationwide Series title, as he holds a 41 point lead and only needs to finish 37th or better in the Ford 300 on Saturday afternoon.