MLB Giants vs Tigers 2012 World Series Game 3 Betting Odds
Favorites heading into the the Major League Baseball 2012 World series, the Detroit Tigers limp home after the Giants registered two wins in San Francisco. Now it's (fill in any cliche you see fit here) time as Detroit needs to step it up tonight. First pitch is slated for 8:07 PM ET on Saturday, October 27, 2012, from Comerica Park in downtown Detroit, Michigan.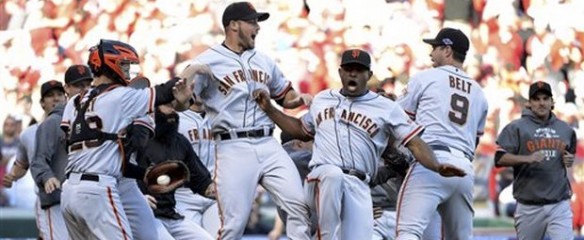 Detroit Tigers: Betting chalk despite 0-2 series hole
For the third straight game of the 2012 MLB World Series, Detroit has been posted as the favorites over San Francisco. Through the first two contests, the Tigers have looked much like they did when they faced the St. Louis Cardinals back in the 2006 Fall classic – lifeless and disinterested. Something has to change if the Motor City Cats want to make this a competitive series. It starts with the Tigers bringing their bats to life and scoring some runs.
San Francisco Giants: Holding Fall Classic lead and a couple of aces
Things could not have gone any better for the Giants as they started the third and fourth pitchers in their starting rotation and they both earned a win. Now San Francisco gets to trot out their aces Ryan Vogelsong and Matt Cain for the next two contests. Vogelsong is 2-0 with a 1.42 ERA in the 2012 MLB playoffs and he's coming off a 6-1 nine strikeout performance that shut down the Cardinals in Game 6 of the National League Championship Series.
Tigers vs Giants Advantage Sports Betting MLB World Series Game 3 Prediction
Anibal Sanchez gets the ball for the Tigers and, having spent six seasons in the NL, he's very familiar with the Giants. Dating back to the 2010 MLB season, San Francisco has managed just eight runs over the last 36.1 innings against Sanchez. Giants vs Tigers 2012 World Series Game 3 betting odds can be found at the bovada.lv online sports wagering website.
Detroit is chalk at -1.5 (140) and -155 ML, the Giants come in with +1.5 (-170) and +135 ML odds, while the Over/Under is posted at 7.5 runs. Part of us really wants to take the Tigers to rebound here. That said, the Giants have been studs at the plate recently and we can't get past the fact that we are getting runs to back them. Give us the Giants at +1.5 on the run line.