MLB Free Pick Padres vs Red Sox Betting Lines
Today, our MLB free pick features the San Diego Padres vs Boston Red Sox with betting lines from the sportsbook at the Bodog online sports wagering website. West meets East and NL meets AL as Major League Baseball Interleague play continues in Beantown tonight.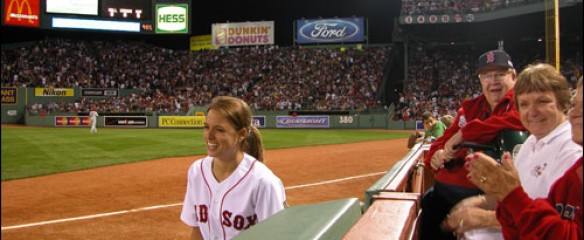 MLB Free Pick Padres vs Red Sox Betting Lines: Still basking in their Stanley Cup victory, the City of Boston can now revel in their "Boys of Summer" as the Red Sox continue to mow down everyone in their path. Next up, the Padres come to town for their seventh straight road game.
This Major League Baseball wagering action gets underway with the first pitch scheduled for 7:10 PM ET on Monday, June 20, 2011, from venerable Fenway Park in Boston. MA.
Baseball Betting Preview – Padres @ Red Sox
Owning the second best record in the majors, the Red Sox (43-28 .606) have a 1.5 game lead over the New York Yankees in the American League East. Boston has gone 8-2 in their last ten and have a 22-14 home record.
San Diego (30-43 .411) has struggled all season and they sit dead last in the National League West. Their recent 2-8 record includes five straight road loses and they were just swept by the suddenly hot Minnesota Twins.
Interleague play has been good for Boston, as they have won 17 of their last 23 games, and not so good for the Padres as they are 0-6 in  games against the American League during the 2011 MLB season. Boston has scored ten or more runs in four of their last eight games while the Padres haven't scored more than three runs in seven of their last nine contests.
Both teams have relatively unknown pitchers heading to hill which hints at a hitting and scoring fest in the making.
LHP Andrew Miller gets his first Major League start since 09/29/10 in place of the injured Clay Buchholz (strained lower back). Once a top pitching prospect, Miller was just called up from Triple-A Pawtucket where he was 3-3 with a 2.47 ERA.
LHP Wade LeBlanc is filling in for Aaron Harang (foot contusion) and was recently call up from Triple-A Tucson. LeBlance (0-2 .426 ERA) has two starts with Padres this season. In his last outing he went 4 2/3 innings, allowing three runs on seven hits, back on 06/14/11 against the Colorado Rockies.
MLB Online Betting Lines Red Sox vs Padres Free Pick
Todays MLB online betting lines for Boston vs. San Diego are courtesy of the Bodog.com sports betting website.

Even though we can't really surmise anything from the pitching match-up, the Red Sox have a huge advantage on offense in this game.
Boston has been a slugging machine as they lead the Majors with a .275 batting average, a .348 on base percentage and have 381 runs scored. They also sit second overall with a .450 slugging percentage.
San Diego is way down at the other end of the spectrum as they sit second last with a meager .232 batting average. They are also last overall with both a .334 slugging percentage and 242 runs scored.
There should be plenty of fireworks flying in Fenway tonight and the hometown faithful will be on their feet a lot during this contest.
Take the Red Sox over the Padres at -1.5 (-105) on the Bodog Point Spread!