MLB Division Series Championship Betting Lines and Picks
Then there were eight! Now that the dust has settled on the historic, first ever Major League Baseball Wild Card play-in games, we are down to the eight teams that will battle in the 2012 MLB Division Championship Series. The Baltimore Orioles and St. Louis Cardinals survived to play another day, while it's "wait until next year" for the Texas Rangers and Atlanta Braves.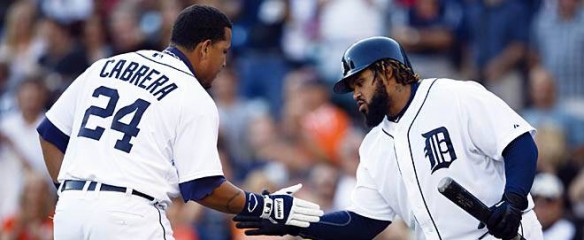 MLB 2012 American League Division Series
Two teams, that were expected to make the MLB 2012 postseason, are set to battle two teams that had a combined 143-181 record back during the 2011 MLB season. The Detroit Tigers vs. Oakland Athletics and New York Yankees vs. Baltimore Orioles are both match-ups few predicted. The Tigers and Yankees, who barely won their divisions, were both thick preseason chalk to make this years playoff party. The Athletics and Orioles, who were posted with 71.5 and 69.5 Over/Under total win lines at the start of the season, were expected to be watching the postseason from home. The Tigers host the Athletics to kick off the ALDS action tonight.
MLB 2012 National League Division Series
Things are a little more familiar in the National League as the Cincinnati Reds vs. San Francisco Giants and Washington Nationals vs. St. Louis Cardinals series could have been envisioned by the All-Star break this season. Back on July 2, 2012, the Nationals were posted at +800 to win the World Series while the Reds sat at +1,000. The Giants and Cardinals both carried +1,200 betting lines into the second half of the MLB 2012 regular season. Don't be surprised if it takes all ten games to decide the National League Championship Series combatants. NLDS playoff action gets going tonight with the Reds visiting the Giants.
Advantage Sports Betting ALDS & NLDS Championship Odds and Predictions
We turn to the online sportsbook at the topbet.eu wagering website for our ALDS & NLDS Championship Odds. TopBet has also posted betting lines for each individual game, for the two League Championship Series, and the 2012 MLB World Series as well as. Here is how we see the Divisional Series shaking out:
Detroit (-145) vs. Oakland (+125) – Back the Tigers
New York (-160) vs. Baltimore (+140) – Back the Orioles
Cincinnati (-125) vs. San Francisco (+105) – Back the Reds
Nationals (-145) vs. St. Louis (+125) – Back the Nationals