Giants vs. Patriots: Super Bowl XLVI Betting Lines & Props
If it seems like the list of Super Bowl betting options gets longer each year, that's because it does. From the length of the singing of the National Anthem, to the coin toss, to political predictions, and cross over sports wagering, bettors will wager billions on Super Bowl XLVI.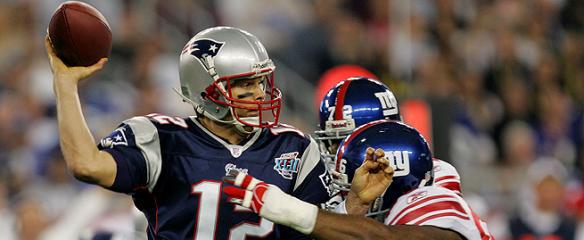 Big Three Betting Lines: Spread, Money Line & Total
Long before they could bet what color the Gatorade poured over the winning coach would be, sports bettors had three primary wagering options, the point spread, a straight up money line, and an OVER/UNDER option on the total points scored.
When these two teams last met in the playoffs, for Super Bowl XLII back in 2008, the Spread was New England -12, the Money Line ran as high as +400 for the Giants and the game total hovered around 54 points.
For the rematch in Super Bowl XLVI, the Patriots are a much lower -3 point favorite, while the money line is almost even at -110 either way, and the game total is set at 55 points. If you feel history will repeat itself, bet on the Giants on the PS and ML options, and take the UNDER on the game total. We do however suggest that you may be surprised on two of the three bets in the end.
Proposition Betting: Total Patriots With A Reception
We have scanned through 100's of prop betting options for Super Bowl XLVI and the one that stands out above all of them is the total number of  players that will catch a pass from Patriots QB Tom Brady.
This prop betting line is set at 6.5 with the OVER at -140 and the UNDER at +110 and we like the OVER here. Seven different players caught passes for the Patriots in their Divisional playoff game and eight was the number in the AFC Championship game.
Taking this a step further, of the Patriots had seven our more players catch a ball in 11 games this season. In the 2008 Super Bowl, a whopping nine New England players had at least one reception. We are even more energized by this prop bet when you consider that Brady is going to be under constant pressure from the Giants defense.
That means that running backs will get in on the pass action, with screen and shovel passes, along with the talented Patriots receiving crew. Four wide receivers, two tight ends, and at least one running back need a catch to push the number OVER. This bet bet could be in the bag and ready for cashing by half time!