Free Pick: Tigers vs. Twins AL Central Betting Lines
After a 2-0 start to the 2011 NFL season on the weekend, we turn back to baseball for tonight's free pick that features the Detroit Tigers vs. Minnesota Twins with betting lines from the JustBet.com wagering website. Detroit is 12-2 straight up in their last 14 games against the Twins. The Tigers are fighting for first in the AL Central and will claw out a win in this one!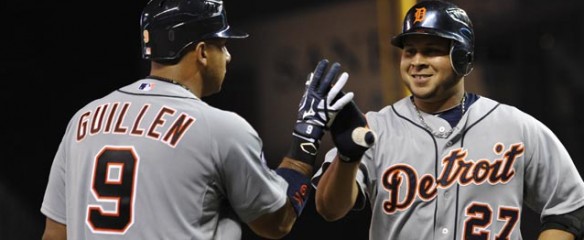 Free Pick: Tigers vs. Twins AL Central Betting Lines: Detroit will be looking to snap a two game losing streak as they host Minnesota in the Motor City tonight. With 30 of 41 games against divisional opponents remaining, the Tigers schedule is like one long playoff run.
This Major League Baseball betting action gets underway with the first pitch slated for 7:05 PM ET on Tuesday, August 16, 2011, from Comerica Park in Detroit, Michigan.
Twins @ Tigers MLB Game Day Preview
Potential (eventual) American League Cy Young Award winner, and one of our betting favorites, RHP Justin Verlander (17-5 2.35 ERA) gets the call for the Cats tonight.
The Twins will counter with RHP Nick Blackburn (7-9 4.36 ERA) who was very sharp in his last outing against the Boston Red Sox as he allowed no runs, and just six hits, over 6.2 innings.
Minnesota brought out the bigs bats as they cruised to a 9-6 win in the series opener. Jim Thome pounded two big flies, the second being the 600th home run of his career, in the Twins victory last night.
Baseball Betting Lines: Detroit Tigers vs. Minnesota Twins
Turning to our odds comparison app, we find the best baseball betting lines for tonight's match-up can be found at the JustBet online sportbook.

Don't expect the Twins bats to get much over on the Vaporizer tonight. Verlander pitched a gem against Minnesota back on July 21, 2011 when he allowed one earned run, on one hit and nine strikeouts, over eight innings.
Take the Tigers over the Twins at -1.5 (-125) with the JustBet Point Spread!