CFL Week 4 Betting Action Opens Early With Toronto vs Winnipeg
Fans of Canadian Football League betting action get an early start to their pigskin prognosticating as Week 4 kicks off with the only Wednesday game of the 2012 CFL season. The Winnipeg Blue Bombers vs Toronto Argonauts tilt is scheduled for 7:30 PM ET on July 18, 2012, from Rogers Center in Toronto, Ontario. The Argos win the QB battle in this contest!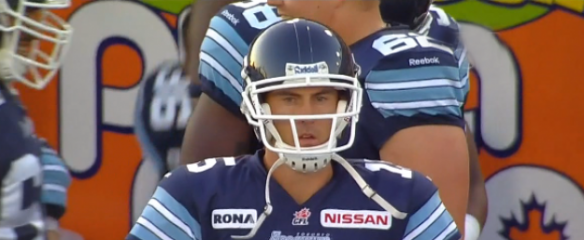 Toronto Looks To Keep Recent Trend Rolling
Fans of the Argonauts have watched Toronto go a on a loss, win, loss, streak to open the 2012 CFL season. They are hoping the trend continues for one more week with a win against the Winnipeg Blue Bombers tonight. A 39-39 home win over Calgary was sandwiched with road losses to Edmonton (19-15) and Hamilton (36-27). The Boatmen catch a break in this one as the Blues Bombers limp into Toronto without their starting QB.
Defending 2011 East Champions Still Searching For The Thrill Of Victory
Dating back to the 99th annual Grey Cup Championship, the Winnipeg Blue Bombers have only felt the agony of defeat. With their hallmark defense leaking like the Titanic, along with their offense is posting a tick over 18 points per game, the Blue Bombers have crashed and burned to an 0-3 record in 2012. With QB Buck Pierce injured and back on the shelf for the third time in three seasons, Winnipeg turns to QB Alex Brink to avoid an 0-4 start – not good!
Argonauts vs. Blue Bombers: Advantage Sports Betting Prediction
This is not a good spot for Winnipeg as Alex and the Blue Bombers are on the Brink of disaster in this contest. You have to know that Toronto, whether they admit it or not, knows that Winnipeg is short at the QB position – with just Joey Elliot backing up Brink. Look for the Argos to bring a huge pass rush against the Bombers as Toronto rolls at home in this one!