Belmont Stakes Horse Betting Odds Triple Crown Racing Free Pick
With the NBA and NHL Finals both strangely absence from the Saturday sports betting landscape, we turn to the "Sport of Kings" and the 143rd running of the Belmont Stakes for our daily Free Pick. While there won't be a 2011 Triple Crown winner, there is still a ton of betting buzz and intrigue surrounding the third jewel of the Triple Crown Racing Series.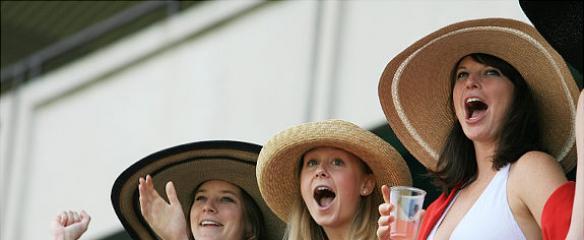 Belmont Stakes Horse Betting Odds Triple Crown Racing Free Pick: Twelve horses, including eight of the top horses that ran in the 2011 Kentucky Derby, make up the field for the "Test of Champions" in today's grueling Belmont Stakes race.
Post time for the third and final jewel of the Triple Crown is slated for Saturday, June 11, 2011, at 6:35 PM ET from the beautiful and historic Belmont Park in Elmont, New York.
2011 Belmont Stakes Horse Betting Preview
The Belmont Stakes is a 1 l/2 mile, Grade 1 race for 3 year-olds that carries a $1,000,000 purse. Of the three jewels in the Triple Crown, the Belmont is the oldest as it was first run in 1867 (Preakness Stakes 1873, Kentucky Derby 1875).
With Derby winner Animal Kingdom and Preakness winner Shackleford both in the field, the Belmont has a definite "grudge match" feel to it. In the same year, 18 horses have won the Preakness and Belmont, while 11 horses have captured the Derby and Belmont.
In 2005 Afleet Alex, who bested Kentucky Derby winner Giacomo, was the last horse to win the Belmont after winning the Preakness. You have to go back to Thunder Gulch, in 1995, to find the last Derby/Belmont winner.
Master of Hounds, who equaled Derby winner Animal Kingdom over the final quarter mile in Kentucky, skipped the Preakness to be fresh for the Belmont. His trip back and forth between Ireland and the US is a slight concern but he will be in contention.
Nehro also skipped the Preakness after finishing second in the Run for the Roses. Prior to that, Nehro had also finished second in the Louisiana and Arkansas Derby's so we expect another good effort from him today.
Betting Odds – Belmont Stacks – Triple Crown Racing
Today's betting odds for the Belmont Stakes are courtesy of the Racebook at the Bodog.com online sports betting site.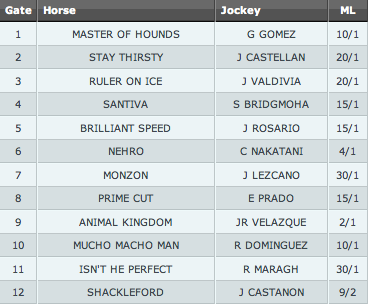 With sloppy track conditions, we don't like the 1½ mile distance for speedball Shackleford or his jockey, Jesus Castanon, who is 5-for-41 when racing at Belmont Park.
Those same sloppy conditions make this a wide open race. Animal Kingdom, Master of Hounds, and Nehro all have a decent shot at finishing in the top two here.
We'll throw in two slight long shots, Brilliant Speed and Santiva who both like the race length, for a five-horse $2.00 Trifecta box.
Belmont Free Pick – Trifecta Box: 1, 4, 5, 6, 9