Baseball Wagering Lines: Tigers vs Royals Game Day Free Pick
With the baseball Midsummer Classic set for Tuesday, Sunday represents the last day of the first half of the 2011 MLB season. Today we look at baseball wagering lines from the BetOnline sportsbook for our Kansas City Royals vs. Detroit Tigers game day free pick. With the Vaporizer on the mound for Detroit, we like the Tigers to roll in this one!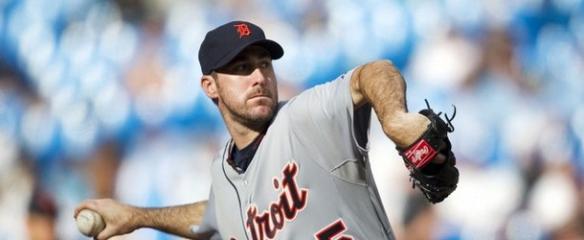 Baseball Wagering Lines Tigers vs. Royals Game Day Free Pick: Detroit (48-43) is looking to take three of four games from the struggling Royals. Kansas City (37-53) blasted out of the gates with eight runs in the first three innings to crush the Tigers 13-6 yesterday.
Like most games on the schedule today, this contest has an early start time. First pitch for this Major League Baseball betting action is slated for Sunday, July 10, 2011 at 2:10 PM ET from Kauffman Stadium in Kansas City, Missouri.
Tigers @ Royals: MLB Game Day Preview
Detroit was in control of this four game series before they got pounded last night. The Tigers took the first two games (3-1 and 6-4) and they are looking to make it three out four with their ace on the mound today.
RHP Justin Verlander (11-4 2.26 ERA) is one of the hottest pitchers in the majors as he owns a 7-1 record, with a 0.84 ERA, in his last eight starts. Verlander limited the Royals to just two hits over eight innings on May 13, 2011, on route to a 3-1 win. It gets worse for Kansas City as the Vaporizer is 11-2 (2.47 ERA) in 17 career starts against them.
LHP Jeff Francis (3-9 4.69 ERA) gets the call for the Royals, as he is the de facto "ace" of the KC pitching staff. Francis, a decent pitcher on a bad ball club, has kept the Royals in games over his last four starts. He has allowed just 11 runs, on 24 hits, in 24 innings pitched over that stretch.
Baseball Betting Odds: Royals vs. Tigers Game Day Prediction
Today's baseball betting odds are courtesy of the sportsbook at the BetOnline sports wagering website. We broke one of our golden rules, by betting on a bad team to beat another bad team, and it cost us last night.
That certainly isn't the case here as the Royals have a 3-11 record against teams in the American League Central Division this season. Before last night, Detroit had won and covered in four straights games against Kansas City.

There aren't enough superlatives to describe the force that is Justin Verlander. The Tigers wasted his last effort as Verlander pitched 7.2 innings of seven hit ball but lost 1-0 on July 5, 2011 to the Los Angeles Angels of Anaheim.
Even though Kansas City is fourth in the majors with a .266 batting average, a percentage point better than Detroit, they are outmatched in this one. We see the Tigers rolling into the All-Star break with a big win today.
Roar with the Tigers over the Royals at -1.5 (-115) with the BetOnline Point Spread!