Baseball Free Pick: Astros vs Brewers Betting Lines
Today's Major League Baseball Free Pick features the Houston Astros vs the Milwaukee Brewers with betting lines from the JustBet online sports betting website. The Brewers are looking to extend their lead in the NL Central while the Astros are playing out the string. Houston can put some runs on the board but we see an easy cover by the Brew Crew here!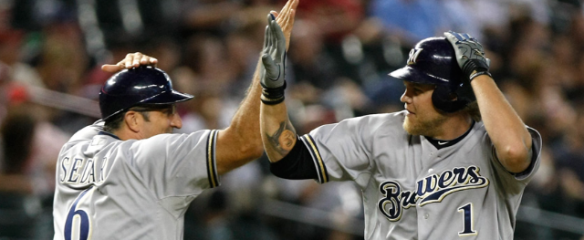 Baseball Free Pick: Astros vs Brewers Betting Lines: Milwaukee (58-49) has taken a 1.5 game lead in the National League Central Division as they face Houston (35-71) who have the worst record in baseball with a .330 winning percentage.
First pitch for this Major League Baseball betting action is scheduled for 7:10 PM ET on Saturday, July 30, 2011, from Miller Park in Milwaukee Wisconsin.
MLB Probable Pitchers: Astros @ Brewers
At first glance there isn't anything remarkable when it comes to todays pitching match-up. The Brewers send RHP Yovani Gallardo (11-7 3.89 ERA) to the hill while the Astros counter with LHP J.A.Happ  who is 4-12 with a 6.12 ERA this season.
Further review shows that Happ has been one of the least effective pitchers in the major leagues this season. Happ has allowed at least five runs in seven of his last eight games and he has just one victory in his last twelve starts.
Though he hasn't been lights out, Gallardo has been solid in giving up three runs or less in seven of his last ten starts while striking out 53 batters in 58 innings pitched.
Baseball Betting Lines: Brewers vs Astros Free Pick
After scanning our odds comparison application we see the best lines for this NL Central match-up are being offered in the sportsbook at the JustBet online wagering website.
While the Astros have shown some pop in their bats, they just traded away their top hitter to the Phillies. Hunter Pence was batting .309 with 11 home runs and 62 RBIs for Houston prior to the trade.
Milwaukee has gone 7-3 over their last ten games and have won four straight contests. Houston has lost six of their last eight games and , with Happ on the hill, we see that trend continuing today!
Take the Brewers over the Astros at -1.5 (-120) with the JustBet Point Spread!