Baseball Betting: Red Sox Wakefield Seeks 200 Career Wins
Today we look at the Boston Red Sox, who are coming off a five game losing streak, facing the Toronto Blue Jays. The Red Sox are trying to shake off some September sluggishness, as they trail the NY Yankees by four games in the AL East playoff race, heading into action tonight.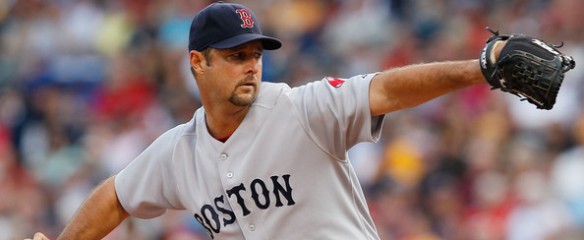 Take in this Major League Baseball betting preview as a lead up to a quick two game series between American League East division rivals Boston Red Sox and Toronto Blue Jays.
Tonight's Red Sox starter RHP Tim Wakefield can be the 89th modern-era pitcher to record 200 wins, on this his eighth attempt.
This hyped-up MLB betting action is scheduled to begin on Tuesday, September 13, 2011, at 7:10 PM ET from the fabled Fenway Park in Boston, Massachusettes.
Toronto @ Boston: MLB Game Day Preview
Coming off back-to-back series wins, and sitting with five victories in their last seven games, Jays pitcher Brandon Morrow and the boys would love to spoil Wakefield's celebration.
That would also postpone Boston's post-season anticipation for at least one more night. The Jays find themselves out of the playoff picture for the 18th straight season.
In just 4 1/3 innings of work, during his last start against the Red Sox, Morrow allowed a whopping eight runs. He'll need the big-hitting of teammates Brett Lawrie and Jose Bautista to counter the mighty Sox.
We expect Boston will come out firing heavy as they want to quash this five game losing streak and spark a positive turnaround heading into the final stretch run of the 2011 MLB playoff race.
Baseball Betting Lines: Blue Jays @ Red Sox
At the Bodog online sports betting website, the Red Sox are chalk at -1.5 (+130), while the Blue Jays are sit at +1.5 (-150) on the Run Line. Money Line bettors can get Toronto at +134, while Boston comes in as a -144 favorite.
>>> Bet on Major League Baseball at Bodog <<<