AFC Championship Futures Odds: Denver Broncos Riding High
Anticipation continues to mount as the 2013 National Football League regular season is now just four weeks away! The Denver Broncos and Baltimore Ravens may provide a preview of the 2014 AFC Championship game when they hook up to open the NFL 2013 schedule at Sports Authority Field at Mile High on Thursday, September 5, 2013, at 8:30 PM ET. These are exciting times and the SportsInteraction sportsbook is packed with NFL preseason betting options!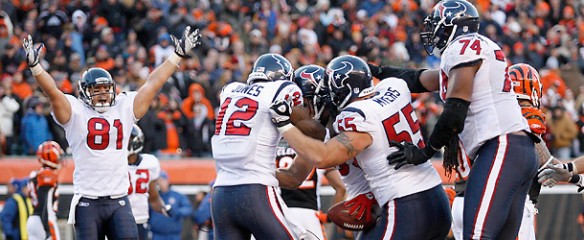 Denver Broncos: Top chalk to win AFC Championship
Fresh off a 2012 NFL regular season that saw them win more games than they did the previous two seasons combined, the Peyton Manning led Denver Broncos have been installed as the favorites to win the 2014 AFC Championship. Bookmakers at the sportsinteraction.com online wagering website have the Mile High Crew posted with a +238 futures price to make it to Super Bowl XLVIII in February. Denver posted a 13-3 record last season and, playing in the weak AFC West, the Broncos should secure a similar record during the NFL 2013 campaign.
New England Patriots & Houston Texans round out top three AFC favorites
Although we don't agree, the SportsInteraction bookmakers have posted the scandal shrouded New England Patriots as the second favorite to represent the American Football Conference on Super Bowl Sunday with a +305 price. The Patriots will also benefit from playing in weak division, as the AFC East stinks, but they will NOT win the AFC Championship. The AFC team we see headed to Met Life Stadium in February is the Houston Texans who should easily win the AFC South Division. SIA has posted the Lone Star State Crew with a +505 line – bank it!