49ers & Packers: Punch Their 2011 NFL Playoff Tickets
Following the Week 13 NFL action, the Green Bay Packers and San Francisco 49ers have both punched their 2011 NFL playoff tickets. The Packers clinched the NFC North Division, while the 49ers have locked down the NFC West Division in the National Football Conference.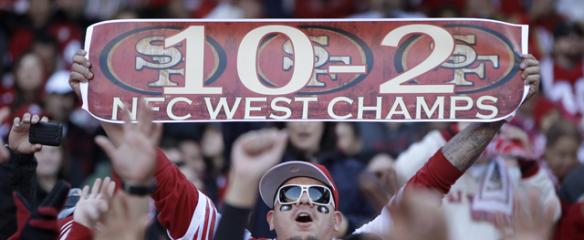 It wasn't pretty or convincing for one, while it was a blowout for the other. Green Bay needed a last second field goal to score a 38-35 win over the New York Giants. San Francisco, backed by their dominating defense, earned a 26-0 shutout win over the St. Louis Rams.
National Football Conference Contenders Stumble
While the Packers, Saints, and 49ers took care of business during Week 13 NFL action, the rest of the National Football Conference contenders stumbled big time.
The Giants loss to Green Bay opened the door for the Dallas Cowboys in the NFC East, but it slammed shut in their faces. WR LaRod Stephens-Howling caught 52 yard TD pass from Cardinals QB Kevin Kolb making the Arizona Cardinals 19-13 winners in overtime.
NFC Wild Card Race Down To Three Teams
Over in the NFC North, the Packers winning the division was a forgone conclusion, leaving the Chicago Bears and Detroit Lions to battle for a Wild Card playoff spot. The Bears were stymied 10-3 by the lowly Kansas City Chiefs, while the Lions continued to self destruct with penalties during a 31-17 Sunday Night Football beat down by the Saints.
The New Orleans win, coupled with the Falcons 17-10 road loss to the Houston Texans, gives the Saints a two game lead over Atlanta in the NFC South.
Dallas at 7-5 is still in control of the NFC East, while the Bears, Lions, and Falcons, all at 7-5 as well, will fight for the two NFC Wild Card Playoff spots.
We like the NFC Wild Card Playoff chances for Atlanta and Detroit!